Custom PVC Patches – All About Patches
When ordinary patches won't do, people turn to rugged, waterproof PVC patches. Perfect for use in rough, outdoor weather conditions, Polyvinyl Chloride is long lasting. Cold and heat are no match for 2D or 3D PVC patches. Crafted with detail and precision, they're the perfect addition to uniforms, outdoor gear, and baggage. The patches are ideal for detailed designs and fine lettering.
PVC patches make identifying people and their belongings fast and easy. This style of patch is ideal for jackets, hats, bags, and backpacks because they're made from weatherproof material. Best of all, we can custom shape and color PVC in a way that gains interest from the public.
Here are some of our customers that use PVC patches for uniforms and gear:
Military Units
Police Departments
Girl Scouts and Boy Scouts
Fire Departments
EMTs
Highway Patrol
Outdoor Sports
Wilderness Clubs (Hikers, Bikers, Fishermen)
You may have a use for custom PVC patches that we didn't list. That shows you just how versatile our newest products are. Let us know what you intend to do with your soft PVC patches.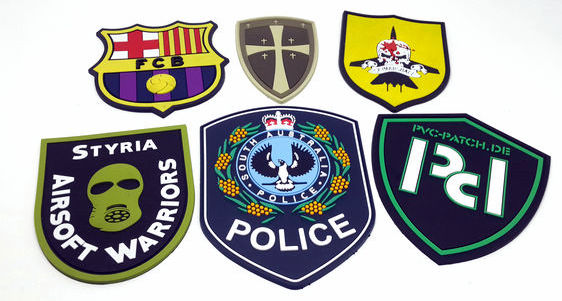 Attaching PVC patches to clothing or equipment is easy. Sew, glue or Velcro them onto material. The flexibility of removing the patch and placing it on other apparel and gear appeals to many of our customers. That's why Velcro backing remains popular.
We want your soft PVC patches to be visually appealing and functional. Free revisions are part of the design process so don't hesitate to request changes if needed. Your satisfaction is our priority.
if you want know more information for custom soft pvc patches,pls contact as follow,
Mobile: +86 13798894682
Whatsapp: +86 13798894682
Skype: jackielan160
Wechat: jackielan160
QQ: 3467476592
Email: info@pvccreations.net