3D soft PVC keychains
Their three-dimensional representation of your design, the high degree of resolution giving a sharp, crisp and colorful message.


Key ring parts
There are several meatl keyring for you choose

Package for  keyrings 
PVC rubber keychains style:Single side/double sides and 2D/3D

Give your key tags a unique personality with a 3D design(or fake look with 2D layers)
One of the reasons people like love PVC is the almost infinite design possibilities, being able to have layers on top of layers, or below layers, can give your PVC keychain an outstanding look. A sort of 3-dimensional look.And some people might think that's what we are referring to when we ask about a 2D or 3D mold style. But it's not.
When we talk about a 2D mold we talk about 2D layers, which are layers that flat on top, picture sharp corners on a side view and a "solid" look to it.When we talk about a 3D mold we talk about 3D layers, which are layers that are "puffy" looking. They have a curved top so thee is no sharp corners, they "flow" a little.
Custom  keychain Shaped at any Size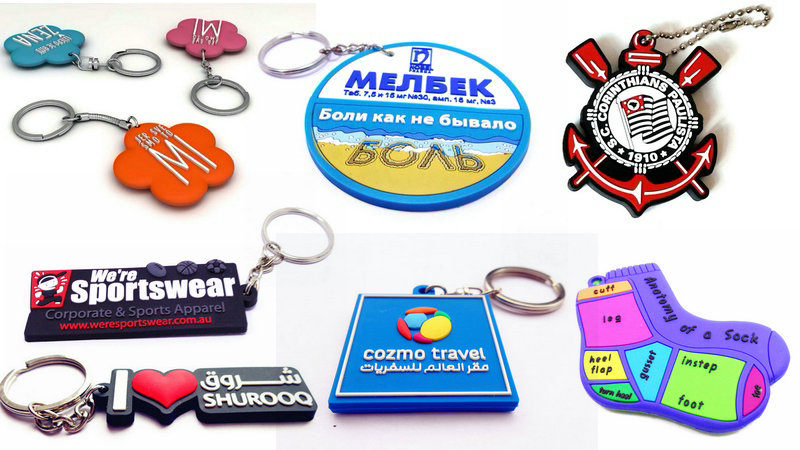 Why do people choose PVC instead of plastic or printed keychains? Design flexibility and adaptability.
We can make them in any size and any shape. We say no to standard sizes and shapes.
No more 2″ circles or rectangles (unless you want to).
Most of our soft rubber keychains are made in a custom shape, outlining your design.
Key chains are usually between 2″ and 5″. Your Tag, Your Size. Use a standard shape or have the patch adjust to your design
Any Thickness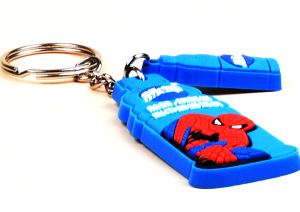 Soft PVC Key chains run a little thicker than patches or labels, they are usually between 2.5mm-5.0mm.(Standard is 4.0mm)
Keychain backside with printing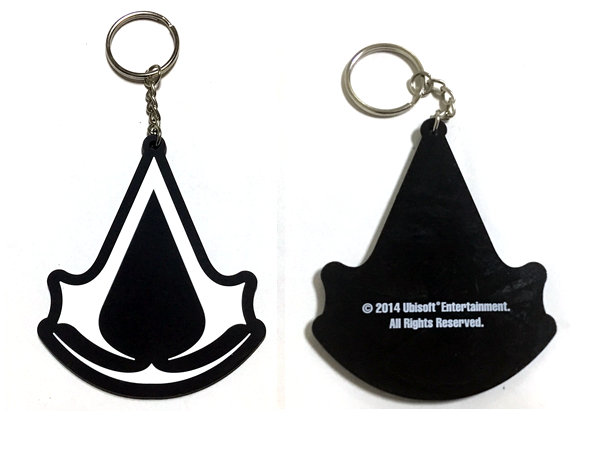 The back side of your keychain is the perfect place to add your business information: email address, website, phone number, or even a call to action to a special promotion. We use silkscreening printing and one color should be more than enough to convey your message. Don't forget to choose a highly contrasting color for best visibility.
Pricing
When we talk about PVC key chains, every project is different.
Size, Shape, Thickness, Layers, Colors, there are too many factors that can affect the price, therefore all of our key chains are quoted in a case by case basis, we will need your artwork/design/sketch and a detailed description of your project for accurate quoting.
Ask your Rep about ways of making your product unique:
2 and 3 Dimensional designs
Cut-Outs
Base Layer color: Black is standard but any color is possible.
Backside Printing: Silk-screening in one color
There is no extra charge for multi-layers and custom shape products.
Do you have questions about Soft PVC Key chains for your Promotion or Giveaway?
Mobile/Whatsapp: +86 13798894682     Skype: jackielan160    Email: info@pvccreations.net
Sample time:4 days

Production time:5-25 days

Min.Quantity:

2D keychains—-100pcs

3D keychains—-500pcs

if need custom package,MOQ is 1000pcs

Order processing:

Step 1:Inquiry(your keyrings detail)

Step2: Confirm keyrings design

step3:Payment

step4:keyrings  Sample

Step5: keyrings Production

Step6:Deliver keyrings

Information required

1.keychain design/artwork

(PDF/AI/IGS/DXF etc format)

2.keyrings size,color,quantity

3.Key rings package requires

4.Testing report requires detail if need
《"3D PVC keychains"》 有 2 条评论